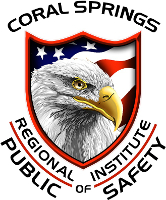 COURSE DESCRIPTION
The purpose of the Firefighter I & II course is to educate, prepare, and provide an opportunity for persons with the desire to become skilled in firefighting techniques. By successfully completing all seventeen performance objectives of the program, students will be prepared to take the State of Florida Firefighter I & II examination.


This certification program is a mentally, physically, and emotionally challenging program that takes heart, focus, dedication and perseverance to achieve. Two (2) courses make up the Firefighter I & II program and include extensive classroom and practical elements in conjunction with numerous hours of self-study. The program has 3 mandatory elements each student must pass;
• Lecture/Classroom
• Fire Skills (performance objectives)
• Physical Training (PT)

Program Length and Content - The Firefighter I & II training program is designed to meet the pre-employment requirements prescribed by Florida Statute 633.34, Qualifications for Employment and encompasses a minimum of 496 contact hours required by the State.
Firefighter 1 - 191
Firefighter 2 - 301
CSRIPS - 4

HOW TO APPLY
Registration is an online process and will require both uploads and information to be completed in the automated system. Please follow all directions to ensure your successful enrollment in the fire program.

Complete Step 1:
Select your course below.

Sign in using your MyCSRIPS username and password (returning student) or create a MyCSRIPS login (new student)
Pay Registration Fee
After completing Step 1, you will receive an email within 2 hours with instructions for completing Step 2 within your MyCSRIPS portal. Ensure that your email address has been entered correctly. You are required to complete Step 2 by the end of the registration day.

When registration is open, click on "Select Class." (You will only be able to select and register for a course at/after the Registration Start Date and Time. If the link is not shown, registration may have closed or the course is full.)



Prerequisite course(s)

This course is a prerequisite for
Session ID:
22-01 Firefighter 1 & 11 Part Time Accelerated
Dates:
Jan 8, 2022 - Jun 17, 2022
Time:
Mon, Wed, Fri 5:30pm-10:30pm & Sat 8:00am-5:30pm
Tuition:
$3350.00
Fees:
$50.00
Price:
$3400.00
Registration End Date:

Dec 10, 2021 05:00 PM
Comments:
Do not register if you have not completed the 9/12 or 11/7 EPAT.
Late Registration Dec 8. Tuition Due at time of Registration.
Please regularly monitor your SPAM/JUNK folder for CSRIPS e-mails.